Girl, stop being a bitch-ass bitch! Orange is the New Black Season 6 is going to hit your screen in the upcoming of July 2018. And we are going to see it's the seventh season this year too. So, it means we will be seeing at least two seasons of the fantastic series and maybe even more. Moreover, this show is one of the best Netflix production so far and that is why we listed this show on our top new releases in July 2018 on Netflix.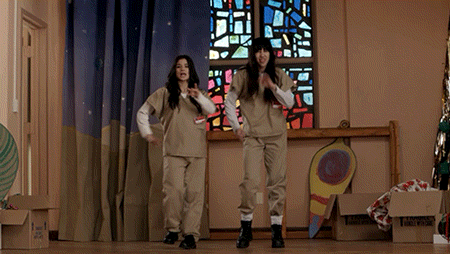 The upcoming season of "Orange is the New Black" will probably reveal something that gives some ending which was a mystery for us at the end of season 5. Notably, there is enormous curiosity about how will the series manages to show all the main characters as there are shifted in different prisons at the end of season 5 is still clueless.
However, we still have many things to share with you about the upcoming season of "Orange is the New Black" that you should know before watching it
"Orange is the New Black" Season 6 Release Date
The new season of OITNB will officially premiere on Netflix on July 27th, 2018
Bye bye, Litch. pic.twitter.com/Y9tWQtIO37

— Orange Is the New… (@OITNB) June 5, 2018
According to our binge experts, the production of season 6 was wrapped in the mid of February as the show's cast updates about behind the scenes on Twitter.
Taystee is in the building and ready for your questions! Meet us on Facebook at 1pm PST! https://t.co/FHojwZvO2u pic.twitter.com/LilzV6kL1e

— Orange Is the New… (@OITNB) June 27, 2018
Hey, it's your girl Taystee! Come to the rec room tomorrow to P-A-R-T-E-E. pic.twitter.com/bRSz0WoF88

— Orange Is the New… (@OITNB) June 26, 2018
"Orange is the New Black" Season 6 Cast
Season 4 was much brutal than season 5 regarding inmate death. However, there were still some severe deaths of some main characters like Poussey in season 4 and Pocatello in the finale of the season.
Till now according to our binge expert analysis on Orange is the New Black series, 10 prisons must be returned and also the ones who left in the bunker at Litchfield at the end of season 5. Characters who will return in season 6 are Frieda (Dale Soules), Suzanne (Uzo Aduba), Cindy (Adrienne C Moore), Taystee (Danielle Brooks), Red (Kate Mulgrew), Piper (Taylor Schilling), Alex (Laura Prepon), Nicky, Gloria (Selenis Leyva) and Blanca (Laura Gomez).
However, on the other side as Daya is one of the main characters of the show, we might see her in action that she must be involved in shooting Humphreys, and on the other side Polanco is being arched if she will be a part of an upcoming season of OINTB
Moreover, the return of other characters in the next season includes Maritza (Diane Guerrero) and Flaca (Jackie Cruz) who were separated on different bunkers, Lorna (Yael Stone) who puts her hands down in front of authorities as she came to knew about her pregnancy.
Lastly, we are probably going to see Caputo (Nick Sandow), Linda (Beth Dover) and new characters Tina Swope and Rebecca Knox in the upcoming season of "Orange are the New Black."
"Orange is the New Black" Season 6 Spoiler Alert!
If we analyze last five seasons of the show, season 5 was not up to the expectations. However, the series director "Jenji Kohan" also said that season 5 was a bit slow and we already realize it was that impressive as we most of the writers who work from the start already.
However according to the one of the show's main character Danielle Brooks thinks that the upcoming season 6 will cover all the negative comments by showing incredible and suspenseful actions. According to DigitalSpy, Danielle Brooks said "So you're going to see all of the girls trying to figure out how to get out of this rabbit hole they've created. Who is loyal to whom? Who is standing alone? Who is motivated by their will to get out of prison? Who lies and who tells the truth? All of that stuff will come out this season".